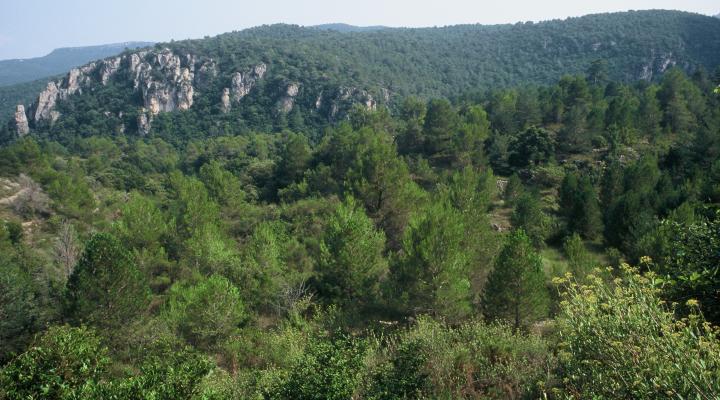 Forest management
Forests produce many direct benefits (wood, fruit, firewood, game). And they are also very profitable indirectly since they act to modulate the water cycle. Thus, they prevent erosion, contribute to keeping the air composition stable and serve as a refuge for biodiversity.
It is important to learn about and properly manage forests in order to adapt them to a changing climate and guarantee their future.
Today, Catalan forests are expanding. Because of the gradual abandonment of lumbering, which is not as profitable as it used to be in the past, forests have encroached on former crop fields and covered fields that were used as pastureland until recently. This entails the appearance of continuous forest stands which are barely cared for and generate a high fuel load.
Furthermore, in recent times, these forests have become prized spaces of leisure activities accessible to everyone. Therefore, it is important to know about and properly manage the forests to prevent potential disasters and make the most of them.
Old forests in the Pyrenees
In the Pyrenees, specifically in the Pallars Sobirà region, some forests have not been felled for over 100 years. In order to guarantee the survival of these "old forests", the Foundation has gradually created 25 forest preserves. Each of the preserves, which total 141.8 hectares divided among the townships of Alins, Esterri de Cardós, Farrera, Llavorsí and Vall de Cardós, have a different stipulated timeframe, ranging from 20 to 40 years.
They are old sub-Alpine forests of Scots pine, mountain pine and fir trees which have scarcely or never exploited for lumber, where monumental specimens up to 300 years old (!) can be found. They are also the habitat of threatened and scarce species such as the wood grouse, the boreal owl and the black woodpecker, and many of these shelters where they live are part of the Alt Pirineu Nature Park.
Beech in Fontanils
At Vall d'en Bas, the Foundation manages part of the Fontanils estate, specifically 132 hectares of it. This estate is the home to a 4,5 hectare forest preserve meant to conserve old forest and allow it to evolve naturally.
The fact that lumber has not been extracted from it for almost two centuries means that today Fontanils boasts a diversity and ecological functioning quite similar to a mature forest with hardly any changes stemming from human use.
Forest preserves of LIFE Pinassa