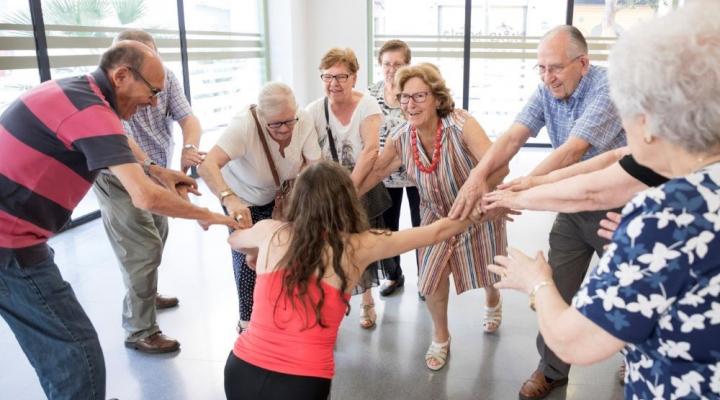 Live in Wellness
Program for people over 60 years old to ensure their emotional well-being and to promote their health
We foster emotional wellness and social relationships
What do we do?
We promote your emotional wellness to live with enthusiasm and motivation every day. You will be able to improve your health globally and establish new social relationships.
How do we do it?
We encourage healthy aging by several sessions carried out by a warm and close team of professionals. Our work is based on the needs, life stories and preferences of the people in the group.
What will you find?
A team of professionals led by a psychologist, with years of experience working with elderly people and in person-centered care.
Significant and based on the needs, preferences and life history of each person. Wide variety of content to promote good health and empower people to live well in their life project.
A safe, cozy, warm environment with well-equipped equipment. We guarantee maximum safety and we take the necessary preventive and organizational measures to prevent the risk of coronavirus infection.
Type of activities
Cognitive challenges
Debates, reflections on articles, cognitive exercises, use of reminiscence; they allow the person to maintain a good cognitive health and be able to realize and develop the abilities and skills they possess.
Physical
Exercises are performed to maintain or improve physical health, focusing on the most important functions to be preserved for elderly, which would be coordination, balance and strength. Other techniques such as relaxation and yoga are also used, as well as outdoor activities.
Emotional
Emotional dynamics to understand how our emotions work and how we can intervene in them; discover personal strengths and abilities, work on resilience and self-esteem, among others.
Creative
Creativity has no age. Based on the tastes and preferences of the group participants, plastic, musical, free writing, etc. activities will be promoted.
Healthy habits
Food will be a key pillar as it is essential for maintaining good health. There will be talks on food, cooking styles, and they will be put into practice with cooking workshops in the Social Space itself. Other topics will be daily self-care routines, sleep and so on.
Cultural events and entertainment
At people's request, it will be possible to visit cultural sites of the territory or cultural sites of Catalunya La Pedrera Foundation as well.
* Provided that the necessary security measures can be guaranteed.
New technologies
If it is interesting, we will accompany people in the use of applications, surfing the internet, document creation and so on.
Social Spaces where the REMS is offered