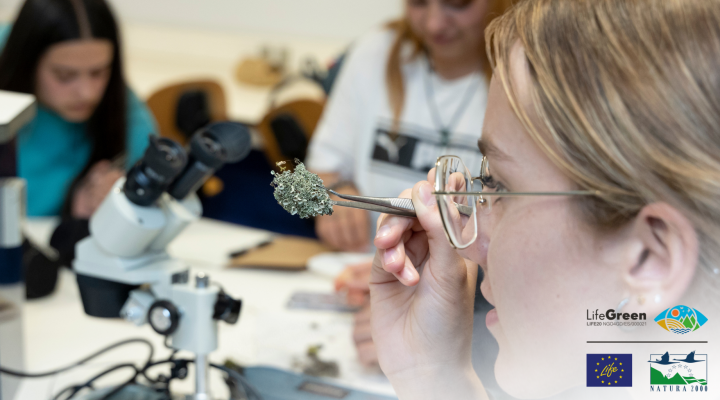 Nature Campus
Programme targeted at students aged 15-18 with a particular interest in the field of Biodiversity and Nature Conservation with the goal of encouraging youths' scientific vocations in this field of research. 
 
OPEN REGISTRATION
Do you imagine your professional future in Biodiversity Conservation?
With Nature Campus you will carry out cutting-edge research in the natural spaces of the Catalan territory
What is Nature Campus?
The programme stimulates the talent and encourages the vocations of 30 student aged 15-18 with a particular interest in research in the field of Biodiversity and Nature Conservation. This is an opportunity for students to become familiar with fieldwork and learn more about the different techniques used to study and conserve land and marine flora and fauna from experts in this field.
The programme consists in seven Saturday or weekend theoretical-practical sessions which are held during academic year 2023 between February and May. The majority of the sessions are held in the natural spaces owned by the Catalunya La Pedrera Foundation: La Pedrera (Casa Milà), Alinyà Mountain, MónNatura Pirineus, MónNatura Delta, Montserrat-Coll de Can Maçana and Món Sant Benet. These sessions examine issues related to biodiversity and environmental and nature conservation.
 
The Nature Campus is part of Life Green, a project led by Catalonia La Pedrera Foundation and supported by the European Commission. Its aim is to mobilise, empower and raise awareness among citizens, especially young people, towards the objectives of the European Green Deal.
Registration Schedule 2022-2023
Registration Schedule 2022-2023
1. Pre-registration
The registration form must be filled in. This form does not confirm a place in the program.
2. Notification mail
On the days following the pre-registration, each participant will receive a notification regarding the acceptance in the program and the instructions to complete the 1st payment.
3. Registration
After completing the 1st payment, each participant will receive a confirmation of their registration. During the following weeks, the specific documentation for each participant will be formalised.
4. Second payment
The second payment will be completed between the 10th and 17th of January 2023. The program coordinators will send a reminder via e-mail, as well as asking for assistance confirmation to the Opening ceremony.
21st January
Opening ceremony
Opening ceremony of Campus Natura 2023, informative meeting for the families and 1st session at La Pedrera.
From 21st January on
Start of the program
The sessions of the program will begin
14th May
Closing ceremony
Closing ceremony of the program at MónNatura Pirineus