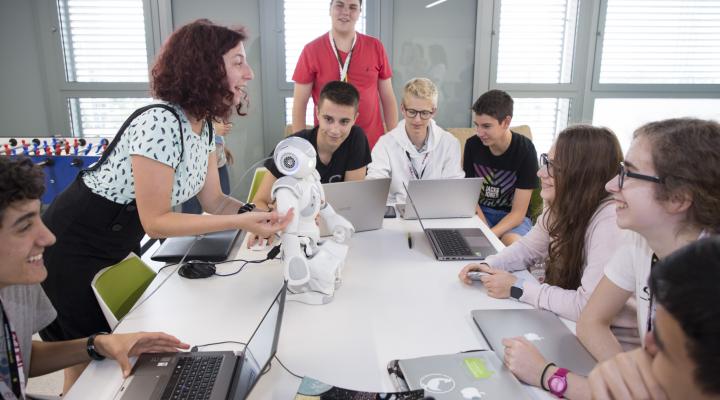 Postgraduate in Innovation in Science Education
SCIENCE ACADEMY
The program that combines innovation, leadership, communication and project management to design and implement initiatives that enhance the learning of science and technology
Join the course to lead the transformation of science education
What is Postgraduate in Innovation in Science Education?
Nowadays, science education plays a key role in the transformation of education and is crucial for a more informed society willing to be part of decision-making. Promoting the critical spirit of citizenship is essential to cope with the challenges of the future that we face as society, and professionalizing non-formal science education will no doubt contribute to this goal.
In recent decades, research centers, science museums and cultural institutions, among others, have developed a line of action linked to education, consolidating non-formal spaces for scientific dissemination –meaning out-of-school. This has led to the emergence of a new professional figure responsible for coordinating science education projects.
This postgraduate course aims to provide training and support the development of a career in this field. The course stimulates the exchange of knowledge between professionals in the scientific and educational fields with a special interest in leading innovation and the implementation of scientific projects in non-formal settings.
Immersion in projects
During the training, the students will participate in the development and implementation of real science education projects within a leading institution. This immersion will enable students to consolidate the theoretical knowledge acquired during the course, so they can apply their learnings in a practical context, providing them with professional experience.
Institutions involved
The postgraduate studies are accredited by the BIST Dolors Aleu Graduate Center, and promoted in collaboration with the Fundació Catalunya La Pedrera. Students will obtain their degree issued by Universitat Pompeu Fabra.
Basic Information
Modality: Semipresential (60% on-site and 40% online)
Language: Catalan (70%), Spanish (20%) and English (10%)
Place: On site in Barcelona (17 sessions), Tarragona (2 sessions) and online (16 sessions)
Start date: September 30th, 2022
End date: June 16th, 2023
Registration period:
First call: from April 6th to May 2nd, 2022

Second call: from May 3rd to June 3rd, 2022
Calendar
The postgraduate course has a duration of 8 months, from September 30th, 2022 to June 16th, 2023.
The course will be taught on Fridays from 3pm to 8pm and Saturdays from 9am to 2pm. The majority of sessions will be held on-site with others online. The course also includes some special online sessions on Tuesday afternoons from 6 to 7 p.m.
During the periods of project immersion, timetables and specific calendar scheduling will be agreed with the institution where the project is undertaken. Similarly, schedules for tutorials and follow-up meetings will also be agreed with the course coordinators.