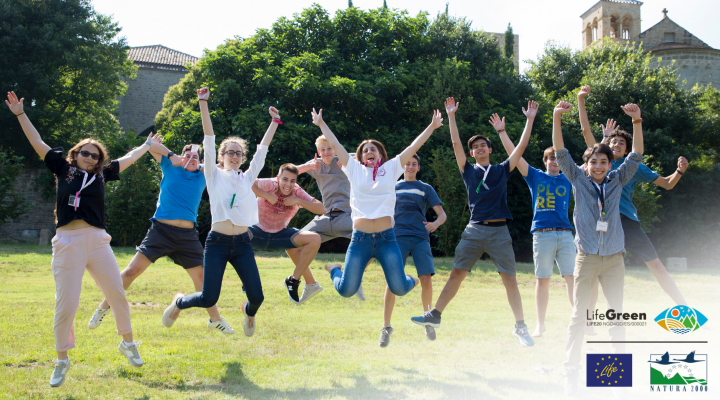 Science campus: Sustainability and... action!
SCIENCE ACADEMY
The campus combines topics such as biodiversity conservation and agroecology with the audiovisual and film worlds. We want to live in a world where all young people have the opportunity to develop their abilities to the maximum.
What is the path to a more sustainable world?
Do you want to change the present to have a better future? Let's make an audiovisual project! 
What is Science Campus: Sustainability and... action?
It is a program organized by Science Academy aimed for young people between 14 and 17 years old (born between 2004 and 2006) with the objective of raising awareness and sensitizing the participants to the global challenges, as well as developing their motivation so they can be part of the solutions and enhance their creativity.
This campus is an opportunity for participants to recognize themselves as transformative actors, with possibilities of having voice and involvement to face the major issues that have marked the European Union, through the European Green Deal, and the United Nations, with the 2030 Agenda and the Sustainable Development Goals.
The Science Campus: Sustainability and.... Action! offers a broad vision of the reality within local and global sustainability and combines activities on issues related to responsible production and consumption, biodiversity conservation, or mitigation and adaptation to climate change, with a more creative side through an audiovisual and film project.
This 10-day stay will take place in the unique environment of Món Sant Benet, a Natura 2000 area, which has innovative facilities and projects, which are a reference in research in food and health, agroecology, biodiversity conservation and water uses.
The program has thematic sessions guided by people specialized, and a team specialized in the creation of film projects with young people.

The Science Campus: sustainability and...action! is part of Life Green, a project led by Catalonia La Pedrera Foundation and supported by the European Commission. Its aim is to mobilise, empower and raise awareness among citizens, especially young people, towards the objectives of the European Green Deal.
Schedule
Schedule
8th June
Registrations
Limited places, allocated on a first come, first served basis.
June 16th
Informative meeting
At 6:30pm will take place the virtual informative meeting with the participants and relatives.
July 8th - July 17th
Campus
The adventure starts!