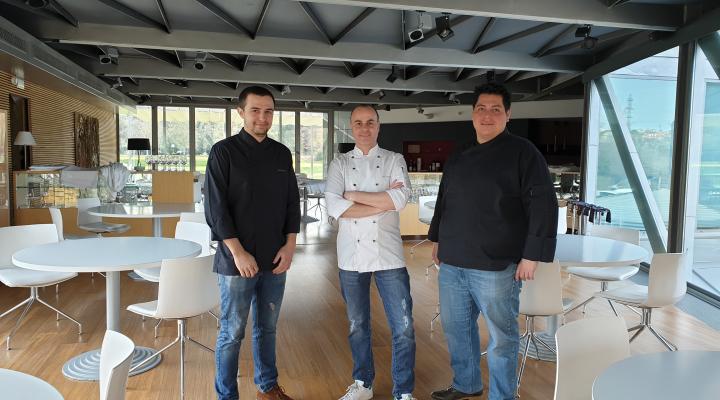 Press releases
Chef Ivan Margalef takes over L'Ó restaurant at Món Sant Benet
Mon, 01/13/2020 - 13:02
L'Ó, the Michellin star restaurant at Món Sant Benet, is starting 2020 with some changes. Chef Ivan Margalef is taking the reins of Jordi Llobet's project, which is starting some new challenges and personal projects.
Ivan Margalef has an impressive national and international career in the culinary field. Trained at the Joviat school in Manresa, where he has since worked as a teacher, Margalef has worked as head chef in restaurants such as the Soho Brindisa in London, the Caviar&Bull in Budapest, the Aligué in Manresa, and Les Clarisses boutique hotel in Vic.
Margalef has also received training in numerous specialised cooking courses and workshops led by top-notch professionals such as Andoni Luis Adúriz (Mugaritz), Albert Adrià (El Bulli) and Joan Roca (El Celler de Can Roca).
The new chef will work alongside a team of first-class professionals who will continue to support the project with their customary rigour and professionalism—including Xavier Benito in the kitchen and Irene Cozas as Maitre D' and sommelier at both L'Ó and Món.
L'Ó restaurant, located in Món Sant Benet, was awarded a Michelin star in 2013, making it the only restaurant in Bages to win this prize Recognition of a job well done that has been awarded again, year after year. .
L'Ó's cuisine is based on tradition and local products, with an emphasis on cutting-edge techniques, good presentation and good service. The restaurant's aim is to make high-quality cuisine that is locally sourced and accessible to the public. Ambitious, but connected to people.
The surroundings of the Sant Benet monastery have a strong influence on the project, as the ingredients come in part from organic farms and local vegetable gardens around Món Sant Benet, which are managed by the Mans cooperative with support from the Catalunya La Pedrera Foundation.
L'Ó's commitment to a high quality wine list and Catalan wine have earned the restaurant a number of accolades, and it is a must on any wine tourism route in the area.
Creativity, knowledge and high-quality kitchen service are the basic ingredients of the award-winning restaurant, which values its team of staff above all.
Margalef will also be taking over the culinary side of the Món restaurant to offer an à la carte menu and daily specials with a touch of L'Ó , together with chef Jordi Cunill.
For more information:
Communications Catalunya La Pedrera Foundation
Telephone: 93 214 25 39
689 386 777 (Isabel Palà)
625 365 560 (Alba Tosquella)