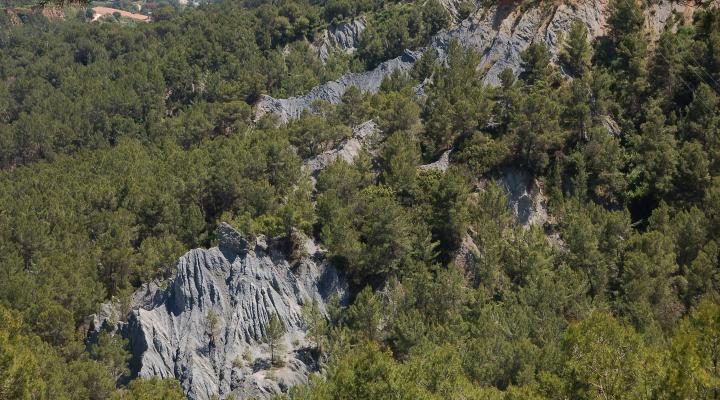 Forests of Can Roca Els Blaus
With Montserrat as the background and on the edge of the Sierra de Rubió, we find this small area of typically Mediterranean landscape. Forests of white pine and ancient olive and carob cultivations surround the main value of this reserve: its geological heritage.
ALL THE SPACES IN THE NETWORK
Data on the space
Name: Espai Natura Els Blaus
Year of acquisition: 2004
Surface area: 20.96 ha
Location: Esparreguera (Baix Llobregat)
GPS coordinates: E01º51'41.04'' N41º33'12.6''
Protection figures:
Space included in the Natural Interest Area of Montserrat
Space included in the GeoParc of Central Catalonia
Type of management: in collaboration with the City Council of Esparreguera

How can I get there?
The reserve can be accessed from Esparreguera, taking the Camí de Can Comelles street towards the Rubió i Montserrat mountain range. At the end of this street a paved path begins that goes through the farmhouse of Can Sant Joan and El Batlló and, finally, reaches the farmhouse of Can Roca. We leave it behind to cross an esplanade. At the end of this, on the right-hand side, we will find a forest track (Camí de les Bramones) closed to motorised vehicles, which gives access to the reserve.
We can also get there from Olesa, following the road towards the Colònia Sedó. Once we leave it behind, in a closed bend, we will find the junction with the stream of the Puig. Following it, we find the barrier where the forest path and area begin.
Tips for visiting
Bring warm clothes, sun protection, sunglasses, a hat / cap, water, comfortable footwear and walking clothes.
It is recommended you bring binoculars and guides for the observation of flora and fauna.
Vehicles are not allowed off the roads and tracks.
Wild camping is not allowed.
Fire is forbidden.
Take your rubbish away with you.
Where can I eat?
Esparreguera has a good range of restaurants and bars.
Where can I sleep?
The offer is wide and varied in the Esparreguera area.
Other information of interest