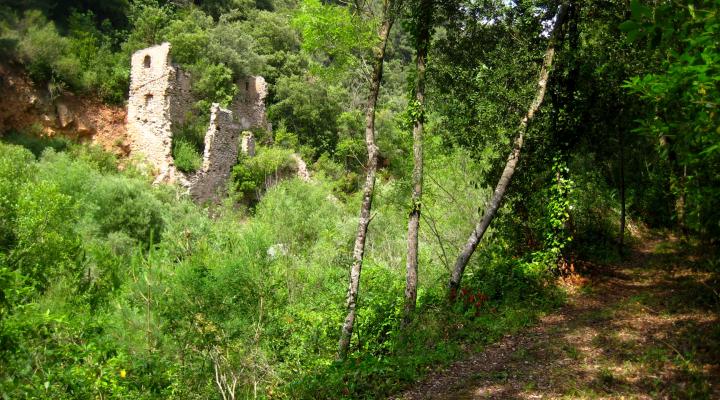 Vilalta Forest
Located in the heart of the Prades mountains, this space offers an exceptional taste of the biodiversity and richness of the landscape of the Mediterranean mountains of Tarragona. Under the watchful eye of the Bonelli's eagle, rivers, cliffs, forests and cultivations build a mosaic of well-preserved environments that rise above the Tarragona plains.
ALL THE SPACES IN THE NETWORK
Data on the space
Name: Espai Natura Bosc de Vilalta
Year of acquisition: 1999 and 2001
Surface area: 124.55 ha
Location: Farena (Mont-ral, Alt Camp)
GPS coordinates: E01º05'17.43'' N41º18'46.53''
Protection figures:
Space partially included in the Natural Interest Area of the Prades Mountains
Wildlife Refuge
Management type: in collaboration with GEPEC

How can I get there?
From Valls or from Montblanc you have to take the C-240 towards La Riba. After crossing the village, take the TV-7044 and follow the road up to Farena, over el Brugent.
Tips for visiting
Bring warm clothes, sun protection, sunglasses, a hat / cap, water, comfortable footwear and walking clothes.
It is recommended you bring binoculars and guides for the observation of flora and fauna.
The movement of vehicles off roads and tracks is prohibited.
Do not go off the marked paths.
Wild camping is not allowed.
Fire is forbidden.
Take your rubbish away with you.
Where can I eat?
In the village of Farena as in Mont-ral or in Prades there are several restaurants that prepare the most typical dishes of the area.
Where can I sleep?
In the towns of Mont-ral and Prades you will find several mountain inns or refuges.
Mas de Caret. Tel. 977 26 40 03
La Casa del mas d'en Toni. Tel. 977 269 152
Other information of interest