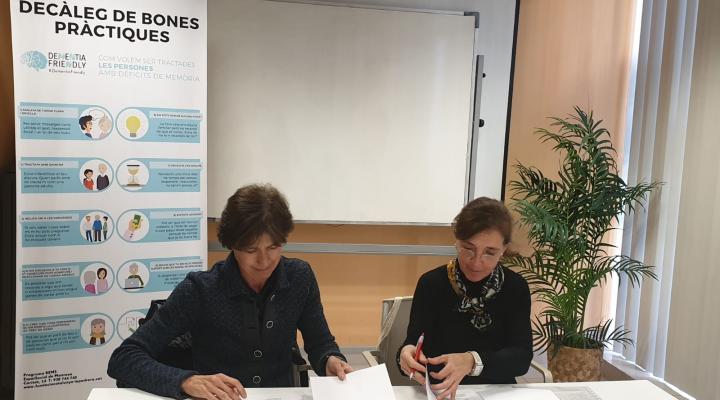 News
The Catalunya La Pedrera Foundation and the Manresa Association for Family Members of Alzheimer's Sufferers have signed a partnership agreement
Fri, 01/17/2020 - 13:17
The Memory and Health Stimulation and Reinforcement Programme (REMS) run by Catalunya La Pedrera Foundation, and the Association for Family Members of Alzheimer's and Dementia Patients in Bages, Berguedà, Moianès and Solsonès (AFABBS) signed a partnership agreement today.
The aim of the agreement is for participants with memory loss to benefit from the services offered by both organisations, as well as to share leisure and cultural activities.
The two organisations have a common goal: working towards improving the psychological and emotional well-being of those who are beginning to suffer from cognitive decline. Both seek to improve people's quality of life and help families.
Three shared activities have already been scheduled for the first half of 2020: Show-cooking with REMS participants and AFABBS users (17 March); visit to La Pedrera (17 April) and tour and lunch at Món Sant Benet (17 July).
During today's event, held at the social space run by the foundation in Manresa, Marta Torras, head of Social Development at the Catalunya La Pedrera Foundation, and Fina Rovira, President of AFABBS, gave speeches.
Torras spoke about how important it is for the Foundation to have facilities in place in the region to help people suffering from these diseases, and Rovira added that this agreement would make services more visible. She also emphasised that the partnership included complicity, mutual support and synergies. "The agreement has two benefits: working together more closely and the possibility of offering joint activities."