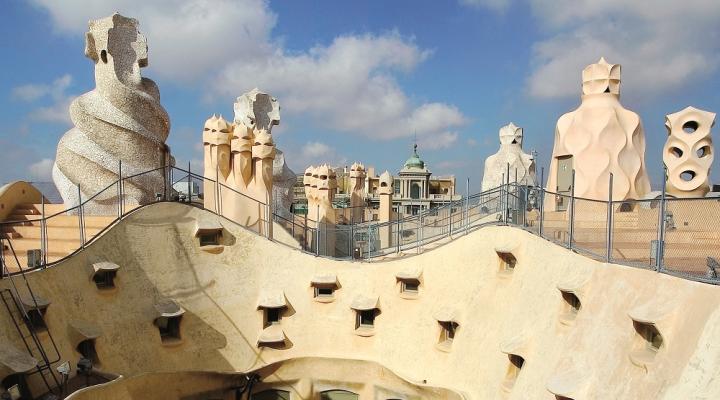 Press releases
Visitors will be able to enjoy La Pedrera-Casa Milà again from 15 July
Fri, 06/05/2020 - 09:39
The visits will include news specially designed for the Barcelona and Catalan public to rediscover Gaudí's masterpiece
All security measures will be applied so that visitors can enjoy the experience with màximum safety
La Pedrera, also known by its original name Casa Milà, will receive visitors again from 15 July. Catalunya La Pedrera Foundation, which manages this iconic building by the architect Antoni Gaudí, has already set a date for its reopening after the closing months caused by the COVID-19 crisis.
A reopening that will be done by taking all the necessary security measures, even beyond what is established by legal regulations, to ensure that visitors can enjoy the experience with peace of mind. We will reduce the capacity of the building to avoid crowds and ensure a safe distance between people, and with the installation of plastic screens in places where necessary. The temperature of all personnel and visitors will be checked, the use of face masks will be mandatory, all spaces in the building will have sanitizing gel dispensers, and we will increase the frequency of cleaning in all the spaces.
These measures have been adopted following the instructions of the experts and the competent authorities, implementing the corresponding protocols and ensuring, in this way, that the most important thing is enjoying the unique experience of visiting Casa Milà.
News on visits
Due to the reopening, the visits will incorporate new features to make them more attractive so that the local public can rediscover La Pedrera from a different point of view. For example, taking advantage of the fact that capacity will be smaller than usual, spaces that are usually closed to the public will be included. Also, in the late afternoon it will be possible to enjoy the rooftop of the warriors while having a glass of cava while watching the best views of Barcelona.
For famílies there will also be the possibility to do a workshop at the end of the visit, in which children will be able to experience as if they were the real Antoni Gaudí. And once finished, they can take their work home.
Flexibility in the purchase
To guarantee maximum peace of mind when planning a visit to Casa Milà, we will give maximum flexibility in the purchase. If, for whatever reason, the visitor decides to change the date of the visit, La Pedrera will be given the maximum facilities to manage this change. And if the visit cannot be made in the end, the ticket amount will be refunded.
Catalunya La Pedrera Foundation
All the measures adopted for the reopening of La Pedrera show, once again, that the Catalunya La Pedrera Foundation is more committed to people than ever. Visits to the building make it possible for more than 500,000 people to benefit each year from the Foundation's social, educational, cultural and environmental projects.