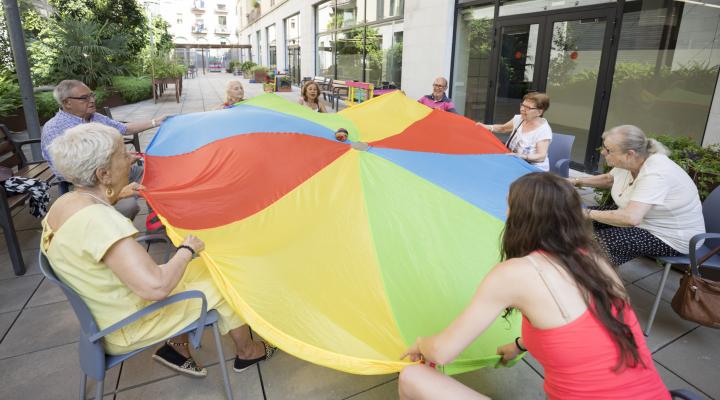 Social volunteering
We help older people to maintain their independence and emotional well-being for as long as possible. We also make a significant contribution to the educational success of children and adolescents.
Become a volunteer!
Reconeixement de crèdits (ECTS)
Si ets estudiant universitari i participes en algun dels programes de voluntariat social que oferim a canvi obtindràs reconeixement de crèdits (ECTS) i viuràs una experiència molt enriquidora.
Consulta les condicions per a la teva universitat:
Universitat Politècnica de Catalunya (UPC)
En quins projectes pots participar com a voluntari/ària?
Consulta la nostra pàgina de voluntariat social per conèixer els nostres projectes i les tasques a fer en cadascú d'ells.
Quants crèdits pots aconseguir fent voluntariat?
D'1 a 6 crèdits (entre 30 i 180 hores)
Quin procés has de seguir per fer voluntariat?
Omple el formulari que trobaràs a aquest enllaç.
Contactarem amb tu per citar-te a una entrevista (a un dels Espais Socials que hagis indicat).

Durant l'entrevista t'explicarem en detall les funcions i horaris del voluntariat. Podràs fer les preguntes i consultes que consideris.

Si la proposta t'agrada pactarem, en funció de la teva disponibilitat, el/s dia/es i horari previst i signaràs el PLA DE TREBALL relatiu al conveni de col·laboració amb l'UPC.
Pots contactar amb nosaltres per correu impuls.social@fcatalunyalapedrera.com o per telèfon al 93 214 25 57
Reconeixement d'ECTS UPC
A quins llocs pots fer el voluntariat?
Als Espais Socials situats a:
Pots consultar els projectes que es fan a cada Espai Social aquí.
Quants dies a la setmana i en quin horari pots fer el voluntariat?
Els nostres projectes es realitzen de dilluns a divendres.

Es por participar a partir d'un dia a la setmana.

Programa PAE: horari extraescolar, generalment de 17h a 19h.

Projecte DINA EN COMPANYIA: De 12:30h a 15h aproximadament