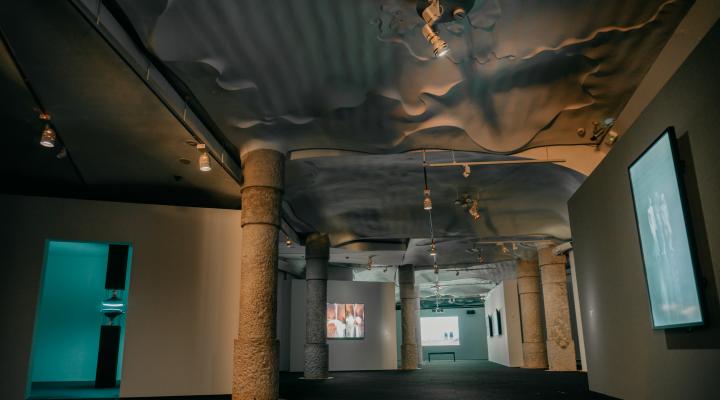 Exhibitions
We believe in art as a stimulus for reflection and critical thinking. For this reason, at the Catalunya La Pedrera Foundation we build experiences of the highest excellence that involve us and challenge us.
We propose our exhibitions as an intellectual refuge, a welcoming space and a window open to knowledge.  
Because culture is always a way towards a more humane world, where people are at the center.  
Exhibition experiences that challenge us as people and new perspectives on artistic creation
The Large-scale artworks by Jaume Plensa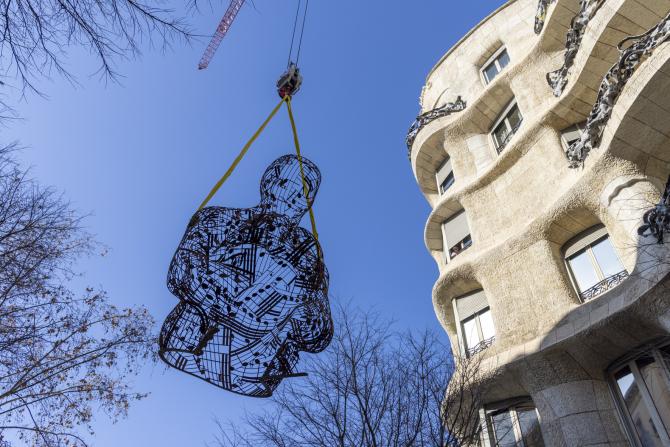 The setup for the exhibition 'Jaume Plensa. Poetry of Silence' has already begun. The artworks that have been installed are Silent Music IV, a large corten steel sculpture measuring three meters in height which, in Jaume Plensa's words, refers to "the memory of a sound, of a music"; and Day-Night, one of his poets, mounted on a six-meter-high strut, a common lighthouse. Plensa sees it as a tribute to the poet Vicent Andrés Estellés. Both pieces have been placed on the rooftop of La Pedrera with a large crane.
This first part of the setup consists of eight large-format pieces that will dialogue with Gaudí's building. There will be a large head in front of the entrance to the building, Flora, and three sculptures in the Attic: Hortensia, Adagio II, and the evocative sculpture Cesar Vallejo VIII. In the courtyard of Passeig de Gracia, there will be Together, the hand with the gesture of blessing; and in the courtyard of Carrer Provença, there will be Overflow, a previously unseen piece.
All of these large pieces will be part of the exhibition, which will feature an extensive route through the exhibition hall of La Pedrera.
Image of the installation