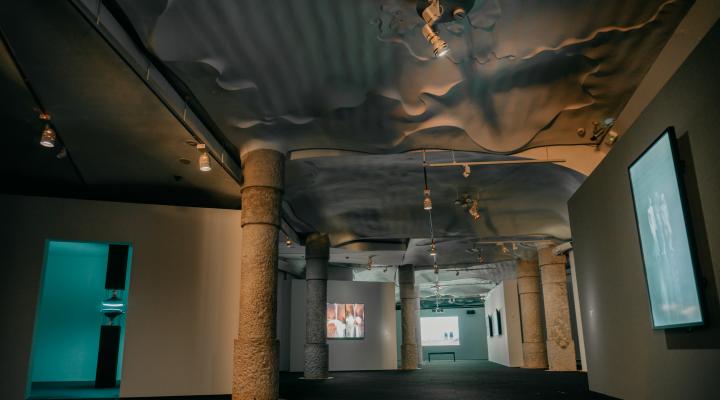 Exhibitions
The exhibition hall at La Pedrera is located on the building's main floor, the former residence of the Milà family. Ever since it was opened, exhibitions of a range of artists and artistic movements have been held there, making this facility a cultural benchmark in the city of Barcelona.
We believe in the transformative capacity of art and the role of culture as a factor in social cohesion.
Current exhibition
William Klein (New York, 1928) is one of the touchstones of contemporary photography. In the late 1950s, he revolutionised the history of photography and laid the groundwork for a modern aesthetic which is still valid today. A pioneer in street photography, Klein used the camera without limiting himself by any rules, thereby helping to break down the established conventions, uses and ways in photography until then.
The exhibition presents more than two hundred documents which reveal all the creative facets of this American artist —not only photographs but also painting, graphic art and filmmaking— and it seeks to reassert the works of William Klein as one of the most prominent artists of the 20th century, while also highlighting his clear, fierce vision of modern society.
Practical information
General ticket price: €6
Discounted ticket price: €3
Persons age 65 and older, students and individuals with disabilities (equal to or higher than 33%)
Entry free of charge
Children age 12 and under, members of professional associations (ACCA, AICA, AECA, AMC, ICOM, ICOMOS) and individuals with disabilities (equal to or higher than 65%) and their companions with proof.
· Special opening hours
Closed 25 December
1 January: special opening hours from 11 am to 8 pm
· Group tours (more than 10 people), with reservations only
At the email cultura@fcatalunyalapedrera.com or by telephone 93 214 25 80.
Must reserve one week in advance.
· Guided tours for school groups
Monday to Friday
Price:  €4 per students
Teachers enter free of charge (maximum group size: 25 students and 2 teachers)
Prior registration: cultura@fcatalunyalapedrera.com or at the telephone 93 214 25 80
Must reserve one week in advance.
· This exhibition has accessibility resources and services
· Accessible tours
Accessible tours for groups of people with hearing loss with a Catalan sign language interpreter. 
Must reserve one week in advance at: accessibilitat@fcatalunyalapedrera.com
Price: €4 per person
The last exhibition in images, 'Bill Viola. Mirrors of the Unseen'