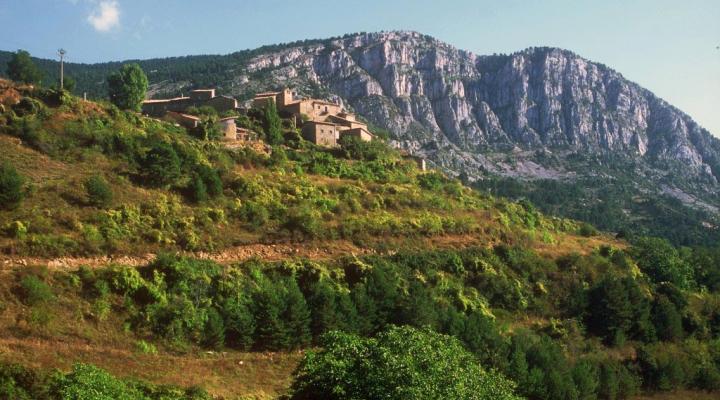 Alinyà Mountain
A great setting and refuge for emblematic species such as the chamois or the wood grouse, the Alinyà Mountain Nature Space is located in the Catalan Pre-Pyrenees, the only region in Europe where you can see with ease the four species of vultures that live on the Old Continent: Common Vulture, Bearded Vulture, Black Vulture and the Egyptian Vulture.
ALL THE SPACES IN THE NETWORK
Data on the space
Name: Espai Natura Muntanya d'Alinyà
Year of acquisition: 1999
Surface area: 5,352.13 ha
Location: Fígols and Alinyà (Alt Urgell)
GPS coordinates: E01º25'22,8'' N42º10'49,1''

Protection figures: (logos and links)
Area included in the Natural Interest Area Serres d'Odèn - Port del Comte
National Reserve of Hunting of the Cadí
Space included in the Natura 2000 Network
Management type: own
How can I get there?
From the C-14: between Coll de Nargó and Organyà, take the L-401 towards Sant Llorenç de Morunys; After 4 km you enter the Alinyà estate and at km 10 you reach the village of Alinyà.
From Sant Llorenç de Morunys: Take the L-401 towards Organyà (road with many turns) and you reach the space once you enter Alt Urgell.
From Lleida: You have to take the C-131 in the direction of La Seu d'Urgell, and past Coll de Nargó take the L-401 in the direction of Sant Llorenç de Morunys, a road that crosses most of the Alinyà valley along the Perles and Alinyà rivers.
 
La Rectoria Visitor centres
Tips for visiting
High mountain climate (intense sunlight during the day and lower temperatures, especially at night).
Bring warm clothes, sun protection, sunglasses, a hat / cap, water, comfortable footwear and walking clothes.
It is recommended you bring binoculars and guides for the observation of flora and fauna.
The movement of vehicles off roads and tracks is prohibited.
Do not go off the marked paths.
Wild camping is not allowed.
Fire is forbidden.
Take your rubbish away with you.
Where can I eat?
Home cooking in the villages of Llobera, Alinyà and Cambrils of the Pyrenees.