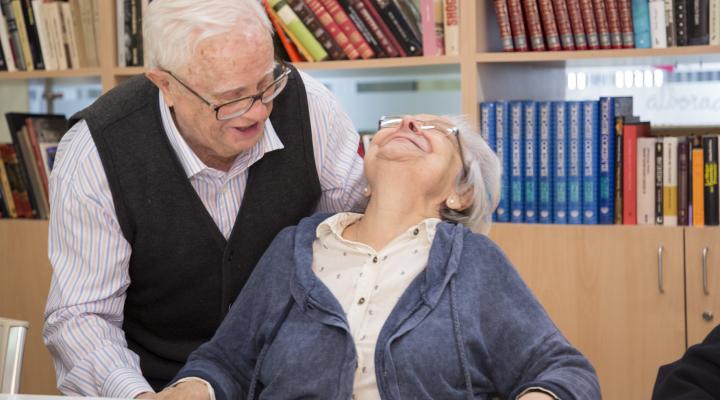 REMS Programme
For older people with Alzheimer's disease and other forms of dementia. We offer them tools and strategies so they can remain self-sufficient and improve their well-being.
We bring the REMS program to your home!
Who are we adressing to?
To elderly people with Alzheimer's disease and other dementias, who cannot go to one of our Social spaces.
Online sessions with professionals, via video calls with mobile phone, tablet or computer.
Personalized sessions where professionals go to the participant's home.
Platform of activities with a follow-up by a psychologist.
Professionals in psychology and neuropsychology, physiotherapy and expression and creativity.
Through meaningful activities chosen by the participants themselves and designed in relation to their interests and life stories.
Types of activities
Cognitive activity
We promote activities to maintain cognitive abilities and personal autonomy for as long as possible. We do this from the dynamics of reminiscence, reasoning, memory, language, and the expression of emotions, among others. Activities based on the needs, preferences and life stories of the participants.
Physical activity
It aims to improve general motor skills, maintain an optimal degree of mobility and autonomy, as well as coordination and self-confidence. This activity helps preserve physical health.
Expression and creativity activity
They promote empowerment, fun, and well-being in a more playful format; recovering hobbies or discovering new ones.
Complementary services
Individual online psychological support
For participants and their families. This is a call or video call support service to help assimilate the diagnosis of the disease, work on strategies to adapt to the new situation and manage emotions, among others.
Individual physiotherapy at home
For participants and their families. It complements the physical activity that is carried out in groups, when the person's situation requires it.