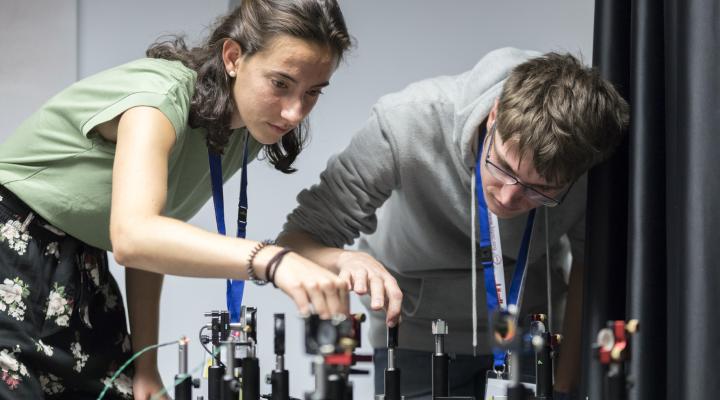 BIYSC
This international program is looking for young students from around the world who are passionate for science with the aim of stimulating their scientific talent and promoting their vocation for scientific research. During two weeks in July, 132 students from 16 to 18 years old will have the opportunity to work in Barcelona on the science and technology challenges proposed by international research centers located in Catalonia.
Do you want to enjoy a summer of science and meet like-minded people from all over the world?
Apply for the BIYSC and get ready for two unforgettable weeks!
BIYSC
The BIYSC 2021 will be held from July 5th to 16th.
In this edition, 11 research projects cover a broad range of subjects across the STEM fields, such as: chemistry, medicine, molecular biology, physics, genetics, biotechnology, mathematics, biomedicine, astrophysics, and bioinformatics.
Find out all the details at the program's website!
BIYSC
FAQ's
What are the requirements for a student to be considered as a candidate for BIYSC?
Date of birth between January 1st 2003 and December 31st  2005.

Good academic record, which must be accompanied by an eagerness and motivation to participate in the program. We are looking for talented and curious young people who, apart from having good academic results, have a genuine interest for scientific research.

Good command of English language.

Intention to pursue a career in science.

Commitment to take the most of the opportunities offered by the programme.
How are participants selected?
We are looking for young people who are interested, curiousabout and committed to science. To find the right candidates, we are guided by the letter of motivation written by the students who apply, where we expect them to show an interest in science and provide details of their personal and school projects (hobbies, participation in science fairs and competitions, awards received, reading habits, musical instruments, etc.) and anything else they think makes them the perfect candidate for this opportunity. The answers to the questions on the application form are also important, as well as the student's academic record, and the evaluation given by the teachers in charge of recommendations.
Do participants need to know English?
English is very important in science, and it is the only vehicular language used during the program. Therefore, it is an essential point for the selection and absolutely necessary to attend BIYSC.
Discover other science programmes