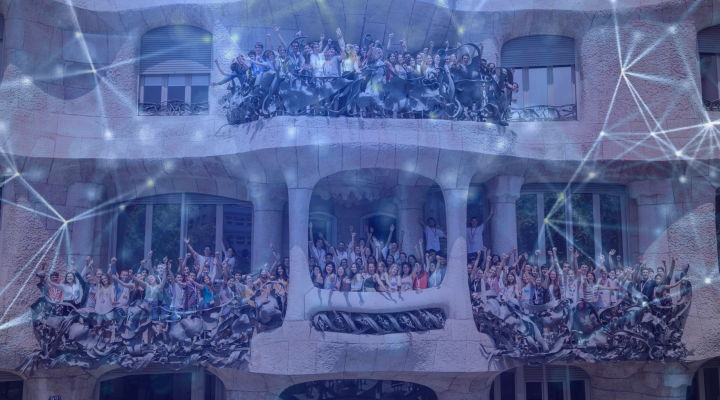 Science Fellows of Fundació Catalunya La Pedrera
If you have participated in a science program from the Science Academy project, you are #ScienceFellow of Fundació Catalunya La Pedrera!
You were there, you experienced it... now get connected and participate!
A community passionate about science
#ScienceFellows is the program of Fundació Catalunya La Pedrera that groups and links people who have participated in Science Academy's science programs (see programs).
The aim of this community is to facilitate interaction, contact and collaboration between Fellows: young people with talent, a great interest in science, technology and research and who share a passion for discovery.
#ScienceFellows promotes continuous education, mentoring, opportunities and shared projects between people from various fields of science and at different stages of their academic and professional careers, either within the community or in collaboration with Science Academy, as well as the involvement and active support of this group in activities carried out by the Foundation. It also serves as a platform to share the Fellows' passion for science with our society.
Impact
4,521
People
Are part of the Fellows community
A community with enormous potential and willingness to share
The #ScienceFellows community connects many people with great potential in various fields of science, technology and research. Their vocation, the impetus that participation in Science Academy programs has offered them, their skills, own and shared experiences, trajectories and projection are a huge source of opportunities that #ScienceFellows helps to amplify.
With the desire to share knowledge and experiences, very diverse conferences and meetings are organized, opportunities are offered to establish contact and collaboration between different generations and there is an online platform, the #FellowsCorner to exchange information, locate contacts, share scientific content and follow itineraries.
A community in constant training
In order to continue learning after the Science Academy programs have finished, the #ScienceFellows community offers a diverse range of courses and training proposals to develop skills useful for a scientific career, but also to learn in other fields.
The program has generated unique and exclusive training, both within the community itself and with relevant people in different specialties. It also collaborates with other institutions to offer the maximum learning opportunities to the Fellows.
A community connected to society
The need to bring science closer to society is obvious, and for this reason, the #ScienceFellows community has scientific communication and active participation in our society as one of its main areas of activity.
Taking advantage of the bright and diverse profiles that are part of it, activities and events are organized to bring science, technology and research to everyone, from talks in schools and institutes, to workshops at science fairs or specialized conferences for attract a general public with whom to share the interest of science.
A community open to the world and present everywhere
Science can no longer be conceived if it is not global and collaborative and #ScienceFellows is an example. Thanks to BIYSC – the international program of the Science Academy – and the mobility of the Fellows, the community is represented in dozens of countries, creating an international network that enriches it and multiplies the opportunities for everyone who makes it up.
Where are our Fellows?
A continuously growing community
Since the beginning of the Science Academy programs, already 15 years ago, the community grows year after year. With each new edition of the programs, the number of Fellows increases, and time allows them to acquire experience and reach more relevant positions. Thus #ScienceFellows is also moving towards more, more ambitious projects and the exploration of new collaborations, both locally and internationally.
The program also allows us to follow the academic and professional trajectories of the people who are part of the #ScienceFellows community, which allows us to analyze the impact generated by the Catalunya La Pedrera Foundation's programs to promote scientific vocations.
An engaged community
In 2018, the #ScienceFellows Committee was formed, made up of Fellows from different generations and Science Academy programs who, voluntarily, through working groups, activate the community and organize activities.
If you are a Fellow and would like to be part of the Committee, suggest ideas and collaborate in revitalizing the Community, write to fellows@fcatalunyalapedrera.com