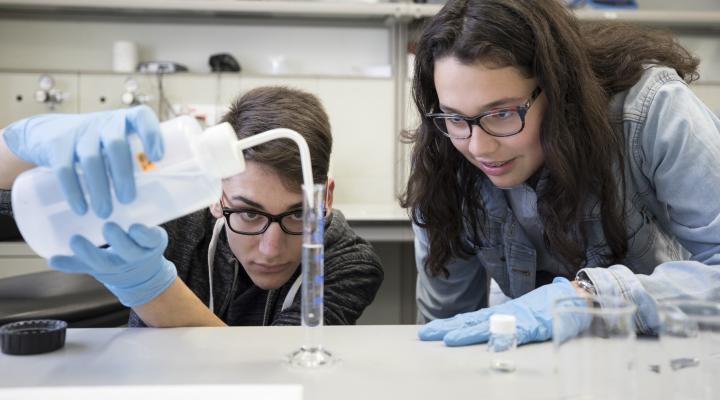 Mad for science
A programme that encourages science and tech vocations linked to the world of research, aimed at secondary school students through theory and practical sessions given by researchers from leading research centres across Catalonia.
Are you mad for science?
Crazy about science brings students closer to the cutting edge of science knowledge before they head to university
What is Mad for science?
Mad for science stimulates talent and encourages the science and tech vocations of 1st and 2nd year baccalaureate students who are curious to find out more about research, through theoretical and practical courses taught by researchers at leading research centres in Catalonia. The final aim of the programme is to help students guide their academic and professional future towards a possible research career, so that they focus on the field of research that most interests them.
Twelve different courses will be taught in collaboration with research centres and institutions in Catalonia that are internationally recognised for their excellence, and the courses will consist of theory and practical sessions that will take place on Saturdays throughout the year. Students will work in the research centres, alongside leading researchers in their field. In this way students will also experience how people work in international research centres, which will allow them to gain practical experience in the latest cutting-edge methodologies, and better position themselves for a possible career in their chosen science of tech field. Lastly, they will also learn how to present and communicate science, while fostering the rigour and critical spirit required for research.
Schedule
Schedule
16 September - 24 October 2019
Registration
Registration
26 October 2019
Pre-selection
Written pre-selection test for the mathematics course
30 October - 21 November 2019
Pre-selection
Pre-selection and interviews with the pre-selected candidates
25 November 2019
Selection
Communication sent to selected and non-selected students
1 December 2019
Payment
Deadline to confirm places through payment.
9 December 2019
Confirming attendance
Deadline to receive documentation and to confirm attendance to the launch event for Crazy about Science 2020.
10 January 2020
Launch
Launch event for Crazy about Science 2020 at Món Sant Benet.
From 11 January 2020
Course starts
Courses start. Theory and practical sessions
24 - 31 març 2021
2n Pagament
2n pagament dels estudiants que facin el pagament fraccionat de la quota
FAQ's
Is the Mad for science programme exclusively open to Baccalaureate students?
Yes. All the courses are for 1st year Baccalaureate students studying the science and/or technology option, except for the Earth Sciences course, which is aimed at 1st Baccalaureate students regardless of which option they have chosen, and the Economics course, which is open to all 1st and 2nd year Baccalaureate students.
 
Can I apply independently of a school?
No. Each school chooses which students it will present for each course. So first talk to your tutor. Keep in mind that your tutor, head of studies or head teacher, as well as one of your teachers, will have to write a letter of recommendation. In the registration section you will find all the steps you need to follow to submit your application.
If I have changed schools during the academic year, which teachers can make the recommendations?
In this case, teachers from your previous school can write you a recommendation. In the permission form from the parent or legal guardian, you must enter the name and email address of two teachers from the previous school who you want to recommend you. However, you must inform your current school beforehand that you want to enter the programme, and in the permission form in the "Educational Centre" section you will have to put your current school.
How do I send my letter of motivation and academic records?
Through the registration section on the website. Fill out the form online, which you will receive when your parents or guardians have registered you (and added your email address). This is the only way you can send us your letter of motivation and academic records. We do not accept these documents via email or post.
How should my teacher and tutor send their letter of recommendation? By email? By post?
Through the registration section on the website. They will fill out an online form that they will receive once your parent or guardian has completed your application, which should include the email addresses of your teachers (these must be two different people). This is the only way you can send us your letters of recommendation. We do not accept these documents via email or post.
Can I sign up for more than one Mad for science course?
Yes, you can sign up for up to 3 courses. When you fill in your application, you can state which is your 1st, 2nd and 3rd option from all the courses on the Mad for sciencee programme. You will only be selected for one of your chosen options, as you cannot do two courses at the same time. You do not have to fill in three course options, and if you are only interested in the Economics course you can apply for Economics only.
If I already studied a Mad for science course during 2019 while I was a 1st year Baccalaureate student, can I apply for a Mad for science course in 2020 that is aimed at both 1st and 2nd year Baccalaureate students?
Yes, as long you don't apply for the same course again.
If I am currently taking part or have participated in other La Pedrera Foundation courses, such as the Youth and Science programme or BIYSC, can I apply for the Mad for science programme?
You will not be able to apply for the Mad for science programme if you are taking part in the Youth and Science Programme or Nature Campus. However, taking part in this course is fully compatible with BIYSC, as long as you meet the admission requirements.
How much does it cost to take part in the programme?
Students chosen for the programme will have to pay the registration fee for the corresponding course specified at the Programme fee section. The payment of the registration fee must be done within the established deadlines.
If I have questions about the logistics of the programme (signing up, schedule, payment, etc.), who should I contact?
You can contact us via email at bojosperlaciencia@fcatalunyalapedrera.com
What if I have questions about the course content?
How many students from each school can enrol on a course on the Mad for science programme?
Each student has the chance to apply for a maximum of 3 Mad for science courses in each application, in order of preference. For example: 1st choice) Earth Sciences, 2nd choice) Supercomputing, and 3rd choice) Bioengineering. It is not mandatory to fill in three course choices, and if a student is only interested in the Economics course, they can apply for Economics only.
Each school may submit the applications for a maximum of three students with their first choice for each Mad for science course. For example: a school may choose 3 different students to apply for each of the 10 courses on the programme as their first option; 30 students applying in total. This means each course will receive a maximum of 3 first choice applications from each school, and as many second and third choice applications as students have included in their preferences (unlimited).
If more than three applications are received from the same school (as a first choice) for the same Mad for science course, all the candidates from that school will automatically be removed from the process.
Please note! Please contact us if your school has four or more baccalaureate tracks at bojosperlaciencia@fcatalunyalapedrera.com
Discover other science programmes