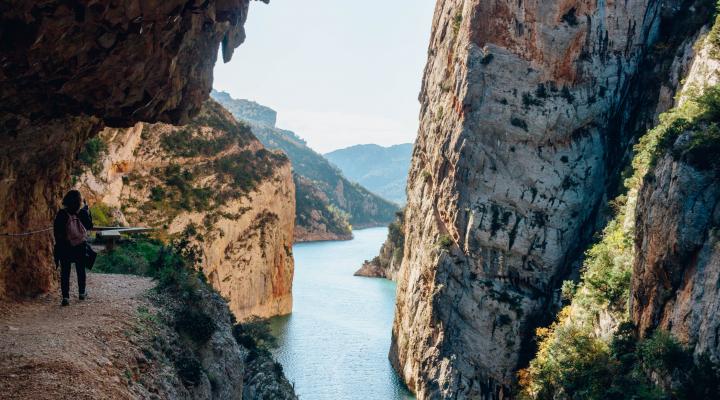 Mont-rebei gorge
When crossing the Montsec mountain range, the Noguera Ribagorçana river has created an immense cut of vertical walls, the Mont-rebei gorge, which opens to the south in an amphitheatre of impressive cliffs.
ALL THE SPACES IN THE NETWORK
Fauna and Flora
The narrow gorge walls and rocky gorges are some of the most unique environments in the space, where curious plants such as the Pyrenean violet and Pyrenean saxifrage grow, and nests can be found of birds such as the bearded vulture, the golden eagle, or the common vulture. In addition to the cliffs and the river, where otters are sometimes seen, we find various environments depending on the orientation of the slopes.
In the shady places there are dense oaks, and the Mediterranean vegetation dominates the sunsets with holm oaks, boxwood and scrub. The Montsec ridge, dry and strongly beaten by the wind, is covered with dry meadows and scrub. The great biodiversity of the place is complemented by caverns of caves and chasms, shelter for bats and other animals from the subsurface environment.