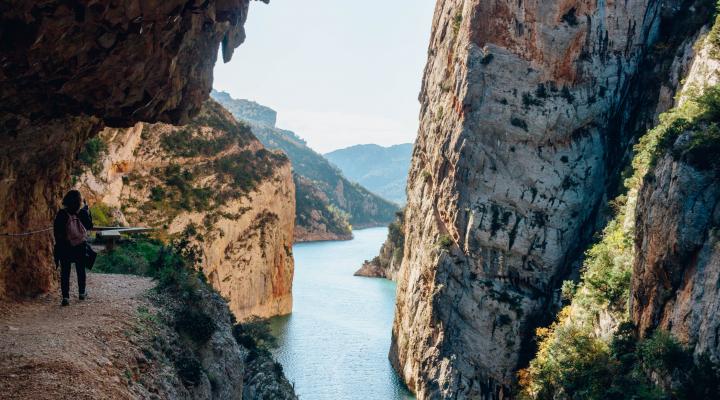 Mont-rebei gorge
When crossing the Montsec mountain range, the Noguera Ribagorçana river has created an immense cut of vertical walls, the Mont-rebei gorge, which opens to the south in an amphitheatre of impressive cliffs.
ALL THE SPACES IN THE NETWORK
Data on the space
Name: Espai Natura Congost de Mont-rebei
Year of acquisition: 1999
Surface area: 598.71 ha
Location: Sant Esteve de la Sarga (Pallars Jussà)
GPS coordinates: E00º41'49.40'' N42º05'47.61''
Protection figures:
Space included in the Natural Interest Area of the Serra de Montsec
Space included in the Geoparc Orígens
Partial Natural Reserve
Space included in the Natura 2000 Network
Wildlife Refuge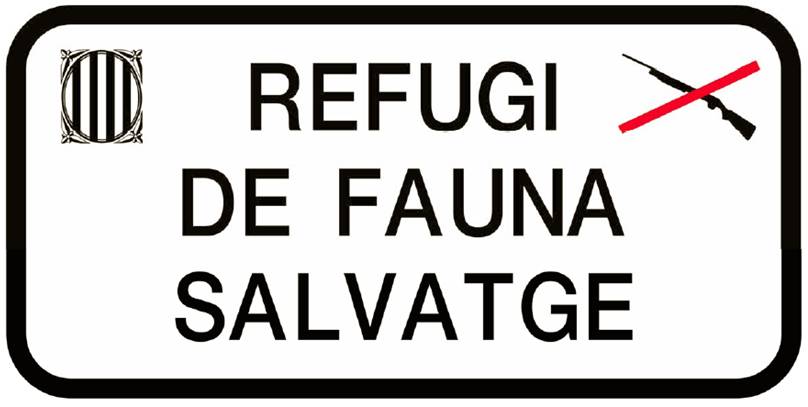 Management type: own
How can I get there?
By the N-230 road (Lleida - Vall d'Aran), until Pont de Montanyana (Ribagorça). Once you reach the village, take the road that goes to Tremp (C-1311) and cross the bridge over the river Noguera Ribagorçana, some 200 metres further, the path deviates to the right with a turning that says "Reserva del Congost de Mont-rebei."
Other ways to get there: through the Tremp road (C-13), taking the junction that leads to Guàrdia de Noguera and continuing on the LV-9124 region, passing through Sant Esteve de la Sarga and Alsamora until you reach the natural space.
Also from Àger and Corçà (La Noguera), but then you can only access it on foot from the path (GR-1) that crosses the Espai Natura Congost de Mont-rebei.
Information Point- La Masieta Agroshop
Open from February to the first fortnight of December, every Saturday, Sunday, bank holidays and breaks.
From 15 July to 11 September every day.
 
From 5 February to 27 March 8:30 am to 4:45 pm
From1 April to 23 October 7:30 am to 7:45 pm
From 28 October to 11 December 8:30 am to 4:45 pm
Tips for visiting
Bring warm clothes, sun protection, sunglasses, a hat / cap depending on the season, water, comfortable footwear and walking clothes.
It is recommended you bring binoculars and guides for the observation of flora and fauna.
Vehicles are not allowed beyond the car park.
Mountain biking is not advisable.
Do not leave the marked paths (it is especially dangerous to follow the Montsec shaded paths).
Dogs must be kept on a lead.
Wild camping is not allowed.
Don't throw stones or objects into the river.
Do not take minerals or fossils.
Don't take plants.
Fire is forbidden.
Take your rubbish away with you.
Climbers should be reminded that the walls of Mont-rebei are shared with vultures and other birds, and that they are present from December to June during the laying season, so it is advisable to avoid climbing during these dates.
Where can I eat?
Restaurants in Pont de Montanyana, Wineries, Noguera and Àger guards.
Where can I sleep?
Casa Blasi.. Tel. 973 25 22 44
Casa Sidro.. Tel. 616 80 28 09
El Casalet de la Clua.. Tel. 650 27 61 69
Fonda Casa Llarç.. Tel. 974 54 21 69
Hotel Isidro.. Tel. 974 54 21 55
Hostal Condes de Ribagorza.. Tel. 974 54 21 94
Cal Soldat.. Tel. 620 41 55 36
Terra del Congost.. Tel. 609 33 59 09
Casa Moliner.. Tel. 640 95 71 95